For some, this term is not news, but someone has never heard of this. Neurosonography is an ultrasound scan of the brain.
Screening is performed for children in Russia, taking into account the order of the Ministry of Health dated 08/10/2017 No. 514n in the first month of life. At the same time, if there are any deviations, the doctor himself sets the time when you need to come back for an appointment.
This examination in Russia was previously accustomed to performing only through one access – the large fontanelle, and when it was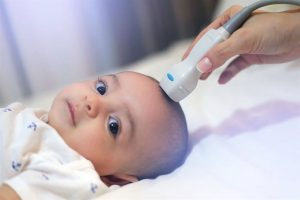 overgrown, it became impossible to look into the brain. Iova A.S. Doctor of Medical Sciences, Professor, Neurosurgeon, Doctor of Ultrasound Diagnostics, Scientific Supervisor of the Neurosurgical Service of Children's City Hospital No. 1, Professor of the Department of Pediatric Neuropathology and Neurosurgery, North-Western State Medical University named after I.I. Mechnikov "suggested transtemporal access (through the temporal bone) in the ultrasound of the brain.
Thanks to this access, it became possible to do ultrasound for almost all children of different ages. Even by holding the ultrasound machine sensor to your temple, you can see some of the brain structures, but the visibility is certainly not so good, unlike babies.
A huge plus of this access is that it allows you not to irradiate the child once again by conducting a CT scan https://en.wikipedia.org/wiki/CT_scan of the brain, which is undesirable due to the radiation load on the child's body. In our center, neurologists almost always use NSH, referring to CT and MRI studies in cases where they really cannot be done without them.